Quick Rules
General


Players must be 18 years old or older.

Teams must have 2 players.

Players must enter their PUBG name and Steam ID.

All players of a team must be the citizens or have been residents of that country since February 1st, 2018 to play in that regional qualifier.

This tournament is not for professional players

Ingame


6 days Online Qualifier - multiple signups possible

Game Mode: DUO 2P

Maximum of 49 teams per day

Best of 3 Rounds per day

DUO earns points for their placement and kills

Top 1st Ranking Points Team per day proceeds to Regional Final

Points distribution can be checked here

Special Custom Settings:


DBNO Revive cast time : 1s

Assault Rifles : 1.5x

Blue Zone Phase 1 Delay(s) : 0

All other settings can be found here




All other settings can be found here

Overview


1. General Rules
1.1 Tournament

The AORUS Open is a community tournament for non-professional gamers for Playerunknown's Battleground (henceforth PUBG) only. AORUS Opens' tournament administration reserve the right to disqualify players and teams if deemed with professional status. AORUS Open tournament is split in six (6) online qualifiers for 6 different regions, six (6) offline qualifiers and one (1) offline final. The online and offline qualifiers will be limited to players from the following countries: China, France, Germany, Republic of Korea, Taiwan, USA.
Each of these countries will have their own online and offline regional qualifiers with the best teams qualifying for the global offline final.


1.2 Administration

Everybody who is authorized by AORUS to administrate the AORUS Open based on its rules and regulations will be called an "admin" in the following, the collection of all admins will be called the "administration".


1.3 Participants and Commitment

1.3.1 Every real person - unless officially banned - with a valid steam account is allowed to participate in the AORUS Open and will be called "participant" in the following. Participants grouping up in order to fulfil the minimum required amount of team members will be called a "team" in the following.

1.3.2 By attending the AORUS Open participants acknowledge without limitation to comply with the rules and regulations and with the statements and decisions made by the administration.

1.3.3 Every participant acknowledges the right for the administration to modify the rules and regulations for adjustments at any time without notice and if necessary overrules those to ensure fair play throughout each season.

1.3.4 Every participant has to show the needed respect towards admins and other participants. Insults and unfair or disrespectful behaviour towards anyone are not tolerated and will be punished.

1.3.5 Every participant must always have the newest version of Steam and PUBG installed and has to check for updates in time before each match. Unless a new version comes out right before the match, patching is not a valid reason to delay it.

1.3.6 Every participant must be registered on the official tournament website and have their correct steam ID (e.g. Steam_1:0:12345) entered and their PUBG nickname. Find out your steam ID here. The "How To" Guide does also explain this process.

1.3.7 Every participant must be at least 18 years old.

1.3.8 Every participant must be citizen, or be a resident since February 1st, 2018, of the respective qualifier's country .

1.3.9 Every team and participant have to try to win every round at every stage of the AORUS Open. Purposefully losing for any reason is strictly forbidden.

1.3.10 Vulgar, racist, sexist or otherwise offensive team or players names are forbidden. Names with deliberately changed size and format are also not permitted.

1.3.11 Every participant acknowledges the right for the administration to edit player's or team's names if names are deemed unfit for display.



1.4 Communication

1.4.1 All communication has to be held in English at any time and at any stage in the AORUS Open.

1.4.2 The administration may only be contacted via support tickets and via the official AORUS Open Discord Server (to be announced with start of sign-up). This helps admins to coordinate as a team and work faster on issues than with the help of other platforms. Any other form of communication may be ignored.


2. Format


2.1 Each region runs six (6) qualifiers - one qualifier each day from Tuesday to Sunday in the given week.

2.2 The exact schedule of each online qualifier is shown below:



China: June 18 – 28

USA: July 31 – August 5

Germany: August 14 – 19

Taiwan: September 4 – 9

France: September 11 – 16

Korea: October 2 -7


2.3 Each match consists of three (3) rounds. Points gained in each round will be added up to a total amount of points. The team with most points is the winner of a match and advances to the regional offline qualifier.

2.4 Up to 49 teams can participate in each online qualifier. Participating in more than one qualifier is allowed, but not necessary.


3. Teams and Players
3.1 Team Size

3.1.1 A Team has to consist of at two (2) participants with valid steam IDs in order to sign up for the tournament. Those persons will be called "team members" or "members" of the team in the following.

3.1.2 All players of a team must be the citizens or have been residents of the respective country for 180 days to play in the regional qualifier.

3.1.3 Exactly two (2) team members must confirm their participation for each match. Within a match it is not allowed to swap team members.

3.1.4 If a team wins a match, both winning players are no longer eligible to participate in any future matches of the tournament.

3.1.5 A team must participate with two (2) players, otherwise the team will not be eligible to play.



3.2 Eligible Players

3.2.1 A team may only use players registered for the team. Stand-ins are not allowed to participate.

3.2.2 Using an ineligible player leads to disqualification for the entire team from the rest of the tournament.


4. Match Times
4.1 Match Times

The match times of each Qualifier are announced on the Qualifier sites.


4.2 Reschedule/Postponing

Matches cannot be postponed or rescheduled to another date.


4.3 Punctuality

Each team must be ready at the official match time. Delaying the round for any reason is not allowed. If a team is not in the lobby with all its members at the official match time, the player(s) will be removed from the lobby and receive 0 points as well as a potential punishment for that match.


5. Hosting and Settings
5.1 Lobby Hosting

The match gets hosted by an admin. Lobby details such as the password will be shared on the respective match page.


5.2 Spectators

Official broadcasters, admins and anyone authorized by an admin have the right to spectate any round without the agreement of the teams. Other persons are not permitted inside the lobby.


5.3 Match Settings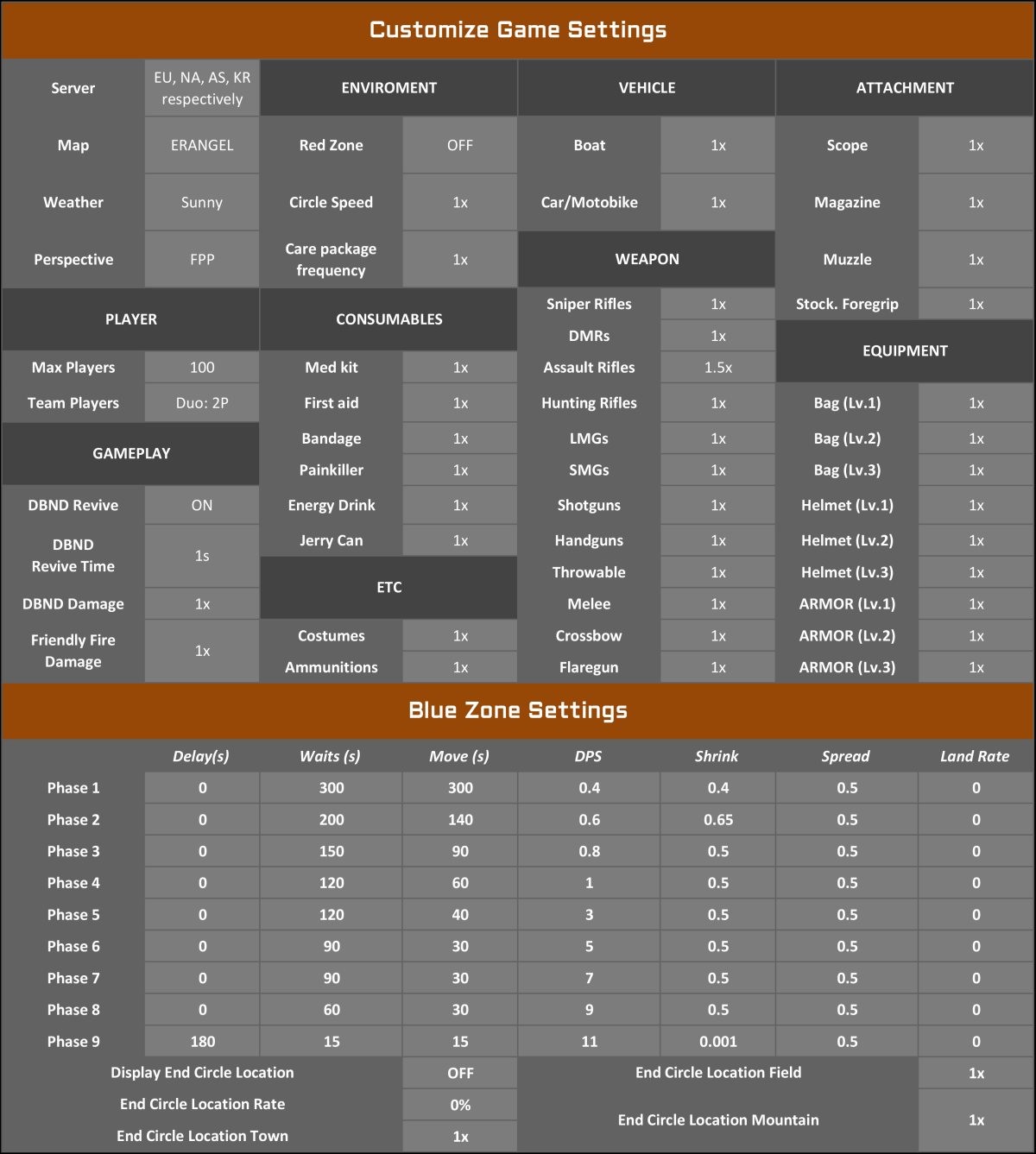 6. Points
6.1 Points Calculation


Points are calculated for each round of each match. The sum of points gained in all three (3) rounds will be the final points for the match.
Each kill is worth 7 points. Placement points in each round are:




1st place – 80 points

2nd place – 50 points

3rd place – 30 points

4th place – 20 points

5th place – 10 points

6th place – 5 points
6.2 Tiebreaker


In case two (2) or more teams are tied for 1st place, the following measures will be used to break the tie:




Highest kill count per team in the match

Highest kill count per team in a single round

Highest placement of a team in a single round


If all teams are still tied afterwards, the administration will decide on further steps.



7. During a Round
7.1 Rehosting

In case of a server crash or a mass disconnect at the start within the first minute of the round, an admin may decide on a rehost of the match. A rehost can only be initiated by an admin.


7.2 Disconnects

If a player disconnects, the player's team may continue the match at their own disadvantage.


7.3 Forfeit

A team may choose to forfeit a round, which will result in 0 points gained in that round.


7.4 Broadcasting

7.4.1 Everyone, who is allowed to spectate according to the spectator's rules is allowed to provide a video stream with a delay of at least five (5) minutes.

7.4.2 Players may never watch or listen to any broadcast of a match they are playing. Being in the chat list of the broadcast qualifies as watching / listening the broadcast.

7.4.3 If a match is on the official broadcast, all its players are required to have their characters wear clothes and not display any nudity.


7.5 Bugs

Abusing a bug is strictly forbidden.


7.6 Cheating

The usage of any PUBG related tool aside from Steam during a match is strictly forbidden.


7.7 Replays

Every participant must save their own replays of all tournament games for at least seven (7) days. Upon request by an admin, each participant must submit the replay to the administration within 24 hours. Failing to comply with this request may result in punishment.



8. Rule Violation and Punishment
8.1 Protests

Protest against any other sort of rule violation by another player can only be reported with a PUBG replay. The protest must include a specific timestamp when the violation took place as well as the name of the player, who committed the violation as well as a clear description of what happened. Protests that either lack a PUBG replay file or details such as a timestamp and description will be discarded.


8.2 Punishments for Teams

Breaking the rules or ignoring the order of an admin may result in a punishment for the whole team or a specific player. Type and amount is chosen by an admin.


8.3 Possible Punishments

The punishments include but are not limited to:



Forfeit of one round

Loss of the entire round,

Disqualification from the tournament

Disqualification from future tournaments

Prize Money Reduction
8.4 Rule Violation in other Tournaments

Heavy rule violations in external PUBG tournaments may also result in punishments for future tournaments.



9. Prizes


The winners of each qualifier will receive prizes. Find all the details here.



10. AORUS hardware at offline events


Participants of all offline events are expected to use AORUS hardware, including mouse, keyboard, headset and mousepad. AORUS hardware will be provided by event organizer, non-AORUS hardware is not allowed.



11. Legal Process


Legal proceedings are not permitted.